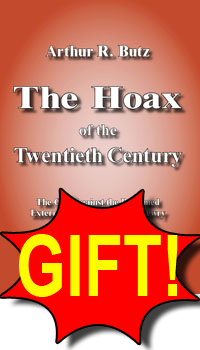 The Hoax of the 20th Century
The book that rewrote the history of the Holocaust®.
Professor A. R. Butz was the first (and so far the only) writer to treat the entire Holocaust complex from the Revisionist perspective, in a precise scientific manner. This book exhibits the overwhelming force of historical and logical arguments which Revisionism had accumulated by the middle of the 70s. This new edition comes with several supplements adding new information. Click here to learn more about it.
This book is yours FREE when you subscribe to The Barnes Review!
In the maverick tradition of one of the great historians of the modern era…
No topic is "too controversial" for The Barnes Review, the most interesting history magazine published anywhere today. Commemorating the trailblazing path of the towering 20th Century revisionist historian, the late Harry Elmer Barnes, TBR's mission is to separate historical truth from propaganda and to bring history into accord with the facts. Founded in 1994 by veteran American nationalist Willis A. Carto—a personal friend of Barnes—The Barnes Review concurs with Rousseau's maxim that "Falsification of history has done more to impede human development than any one thing known to mankind." TBR covers all aspects of history from the dawn of man to recent events and also places a special focus on the philosophy of nationalism. As such, TBR proudly describes itself as a "journal of nationalist thought" and dares to be politically incorrect in a day when Cultural Marxism prevails in the mass media, in academia and in day-to-day life. TBR's editorial board of advisors encompasses historians, philosophers and academics from all over the face of the planet, intellectuals united in their desire to bring peace to the world by exposing the lies and prevarications of the past that have brought us to where we are today. If you believe everything you see in the "responsible" media or think that absolutely everything that appears in most college-level history texts is true, you might be shocked by what you see in TBR—but if you are shocked by what you see in TBR, then that's all the more reason you need to join the growing ranks of independent-minded free-thinkers from all walks of life and all over the world who are longtime TBR subscribers.
The Barnes Review $46 for ONE year (six bimonthly issues—64 pages each); Including this special free bonus: A FREE COPY of Arthur R. Butz's blockbuster book The Hoax of the Twentieth Century. That's a $30 gift free for a one-year domestic subscription! Subscribe for two years at $78 and get The Hoax of the Twentieth Century PLUS Jürgen Graf's The Giant with Feet of Clay. Visit us at www.BarnesReview.org for international rates and for S&H to your nation.
SPECIAL! Take advantage of TBR's simple, automated monthly subscription plan. Every month your credit card account is automatically charged $4. No hassle. No renewal notices. No missed issues. Canada and Mexico are $5.50 per month. All other foreign nations are $7 per month sent via air mail. No additional charges. Just call 1-877-773-9077 toll free (or from abroad: ++1-951-587-6936) or write "automated payment plan" on the ordering form at the end of this book to subscribe.
Call 1-877-773-9077 today and charge a subscription to Visa, MasterCard, AmEx or Discover.
Send your check, money order or credit card information (including expiration date) to:
The Barnes Review
P.O. Box 15877, Washington, D.C. 20003
TOLL FREE 1-877-773-9077
(from abroad: ++1-951-587-6936)