The January/February issue of our bi-monthly magazine The Barnes Review, "The Norman Genocide of the Anglo-Saxons," has just gone into the mail. You can look at its Cover and Table of Contents online. We have also posted its lead article "The Normans: Blessing or Curse?" by John Nugent, and below you can find Paul Angel's editorial.
If you haven't subscribed to The Barnes Review or have missed this issue for another reason, you can order it now. See below for details.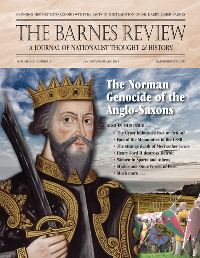 Real Anniversary Approaching…
It's 11:59 p.m., December 21, 2012, and I am done waiting for the end of the world. No tidal waves washed away Miami Beach, and no comets leveled Saskatchewan. And, as far as I know, earthquakes did not leave southern California dangling from the side of the planet. We should have listened to those Mayanists who said all along that the Long Count Calendar would simply reset and continue on. Thank goodness, it appears it has. And that's great; otherwise we wouldn't have been able to bring you this important issue of TBR.
Now I would like to remind everyone that coming up soon is the actual, factual and extremely important anniversary of an event that was truly as earthshaking as the predicted 2012 events would have been had they actually taken place.
Nearly 25 years ago (February 1988), an American expert in execution technologies, Fred Leuchter, released his findings on the "homicidal" gas chambers of the Third Reich. Earlier, Leuchter had been asked by Revisionist Ernst Zündel to apply his scientific expertise about execution chambers in the United States to determine once and for all if the Germans could have used the delousing chambers in Auschwitz and Majdanek to murder mass numbers of prisoners.
The publication of his research in the first Leuchter report forever altered history. Leuchter's conclusion? The physical mechanics of the holocaust as presented by mainstream historians were impossible. The gas chambers could not have dispatched anyone in the way they were supposed to. In short, they didn't work.
Thus, the first crack in the holocaust edifice had been opened.
But rather than being greeted with praise, Leuchter was immediately assailed on almost all fronts. Outrage tore through the academic community as scholars who had made their livings for decades on "holocaust studies" saw their careers vanishing. "Holocaust survivors" and Jewish lobbying groups (both of whom have made mints off of the extermination legend) accused Leuchter of heresy.
And that is in fact what he had committed: scientific heresy.
Since the publishing of those reports, tens of thousands of mainstream books have been written about "the holocaust." Interestingly, though, not one has dealt with the science of the holocaust, preferring instead to focus on emotional eyewitness accounts—as variable, unreliable and untruthful as they are—to sustain the myth.
Our new Holocaust Handbooks brochure
But the good news is that holocaust Revisionists were writing, too, using logic and science to shoot down one extermination camp after another. Today, TBR carries more than 25 books on the subject, one of which contains all four of the original Leuchter reports. It also contains commentary by Revisionist powerhouse Germar Rudolf correcting Leuchter where he was wrong, and affirming him where he was right. This new edition of The Leuchter Reports: Critical Edition was updated and expanded by TBR, especially for this 25th anniversary.
Take a look at the Holocaust Handbooks brochure we have included with this issue and see more on this anniversary on page 23 of the print version or read the blog entry in TBR's online Newsletter archive.
—Paul T. Angel, Managing Editor
Did you miss this edition of The Barnes Review? No problem, it can still be had. Just click here, and we'll lead you to our online shop where you can order a back copy (8.5″×11″, saddle stitched, 64 pp., b/w illustrations, color cover): $10 incl. S&H inside the U.S.

To order offline, send payment to: TBR, P.O. Box 15877, Washington, D.C. 20003 or call 1-877-773-9077 toll free to charge.
No subscriber to The Barnes Review yet? Click here to subscribe! It costs $46 for ONE year (six bimonthly issues @ 64 to 80 pages each).
Call us at 1-877-773-9077 to place your order and ask us about any book gift you can get for subscribing to The Barnes Review!
Visit us at www.BarnesReview.org for international rates and for S&H to your nation.
SPECIAL! Take advantage of The Barnes Review's simple, automated monthly subscription plan. Every month your credit card account is automatically charged $4. No hassle. No renewal notices. No missed issues. Canada and Mexico are $5.50 per month. All other foreign nations are $7 per month sent via air mail. No additional charges. Just call 1-877-773-9077 toll free (or from abroad: ++1-951-587-6936) or write "automated payment plan" on the ordering form at the end of this book to subscribe.
Call 1-877-773-9077 today and charge a subscription to Visa, MasterCard, AmEx or Discover.
Send your check, money order or credit card information (including expiration date) to:
The BARNES REVIEW
P.O. Box 15877, Washington, D.C. 20003
TOLL FREE 1-877-773-9077
(from abroad: ++1-951-587-6936)