Some call it the Russian Revolution, some the Communist or Bolshevist Revolution, but if you look at those who masterminded and implemented the bloodiest revolution mankind has ever seen, it turns out that they were not Russian at all. The peoples of Russia were the victim, for sure, but the main perpetrators considered this revolution as something else altogether. Who of us knows that during the early years of the Soviet Union, not the pentagram but rather the Star of David was its emblem?
Robert Wilton was a correspondent of the London daily newspaper The Times in Russia during that revolution. His detailed report about that event, its prelude, the horrendous crimes committed in its course and the perpetrators and victims is a classic work which nowadays gets the silent treatment, because it is extremely politically incorrect. It has now been reprinted, see below.
Of course, the communist terror didn't stop when the 1917/18 revolution was "over," for it never really was. Our next new book, Behind Communism—1917-2010, thoroughly explores the Jewish role in communism not just during the revolution in Russia, but in all major communist political movements throughout the century spanning from the First World War to today.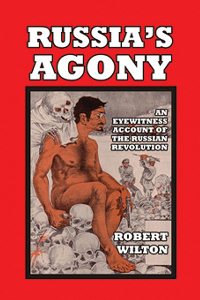 $27.00
The London Times' correspondent in Russia provided the first Western eyewitness account of the monumental events that resulted in the creation of the Soviet Union. Wilton provides a full historical background and the disastrous course of WWI for Russia, which set the scene for the seizure of power by the Bolsheviks. He then details the Red Terror's full enormity, and ends with the optimistic—and incorrect—hope that Bolshevism and Communism would be short-lived. Although Wilton's credentials were impeccable and his status unchallenged, this book was blacklisted because he dared to report openly on the overwhelming number of Jews amongst the Communist revolutionaries. Contains all original pictures and maps.
---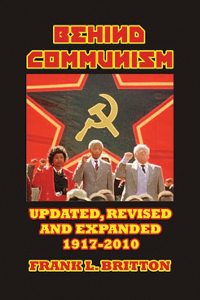 $20.00
Fully revised, expanded and updated from the original 1952 book, this work clearly shows that Communism grew out of Russian Judaism. Although the Soviet Union has disappeared, the ideology that underpinned that state—state-engineered economic and social egalitarianism—lives on, and is stronger than ever before in the West. Now completely updated to include postwar Communist movements in eastern Europe, Britain, America, South Africa and China, this book is the most detailed record yet of the leading Jewish role in Communism. The conclusion discusses the reasons for Jewish extremist behavior, based on an understanding of group evolutionary psychology.
---
Note
Subscribers to The Barnes Review receive a 10% discount on all book and video purchases placed over the phone. Call us toll-free at 1-877-773-9077 (or ++1-951-587-6936 from abroad) to place your order charged to your Visa, Master, AmEx or Discover Card.
No subscriber to The Barnes Review yet? Click here to subscribe.