The FIRST World War ended because U.S. President Wilson had suggested conditions for a settlement which Germany was willing to accept. As a matter of fact, Wilson's famous 14 Points were not too different from what Germany had been suggesting for years without being heeded. But what ensued after Germany and Austria had laid down their weapons was the rape of Europe's heart: borders were drawn not to accommodate Europe's people but to upset them; not to make peace but to foment conflict; not to bring democracy and liberty, but suppression, domination and foreign control. When a strong leader came along to right these wrongs, to shed Europe's shackles, the victorious nations plus Soviet Russia were hell-bent on stopping his peaceful revisions at all costs. They would not let Europe be ruled by the people that lived there.
The Barnes Review now offers two books that shed a revealing spotlight on what resulted from the Versailles Peace Treaty which should more appropriately be called a War Treaty on Europe as a whole. The first book, The Battle for Europe, looks at the cataclysmic fratricide called WWII that lead to the destruction of Europe: its causes and its conduct from today's point of view. The second book presents the viewpoint of the one man who tried to peacefully revise the injustices inflicted in Versailles but was prevented from succeeding with the most violent means the world has ever seen. Most people shiver to even say his name, yet if we compare what he had to say with what we know today, we must admit that he was basically right. But who would dare admit this today and face the consequence?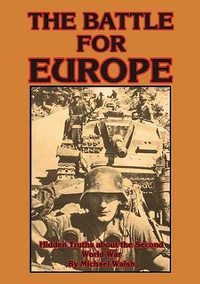 $20.00
After more than 60 years of World War II indoctrination most people consider themselves knowledgeable about the events leading to and through this conflict. The most fascinating aspect of this compilation is the revelation that much of the victors' account of events is bunkum. The Battle for Europe unravels the victors' propaganda and casts a new perspective on the European tragedy of 1939-1945. Contained in this work are insights and revelations you will not find anywhere else, dealing with the true origins of the conflict, Allied atrocities and cover-ups. Here's a superb presentation which, for the first time, tells the war from an objective viewpoint. Be prepared to be shocked at the level of duplicity, lies and propaganda on the conflict, battles, personalities and events of World War II. This new edition also contains many rare photographs of the conflict, including those of German soldiers tortured to death by the Allies and much more.
---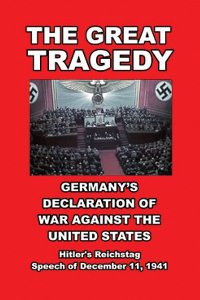 $9.00
Adolf Hitler's Dec. 11, 1941 speech to the Reichstag, delivered just hours after a formal declaration of war had been delivered to the U.S. ambassador in Berlin, marked a decisive turning point in the global tragedy of WWII. This speech was more than just a declaration of war: it is an 88-minute personal explanation by Hitler of the origin of the war, the background to the outbreak of the war in Poland, its subsequent dramatic developments, why he decided to attack the Soviet Union in June 1941, President Franklin Roosevelt's hostile policies toward Germany, a short overview of Germany's place in the struggle for all of Europe, and finally his earnest desire for peace at any cost. This is the first complete and accurate translation.
---
Note
Subscribers to The Barnes Review receive a 10% discount on all book and video purchases placed over the phone. Call us toll-free at 1-877-773-9077 (or ++1-951-587-6936 from abroad) to place your order charged to your Visa, Master, AmEx or Discover Card.
No subscriber to The Barnes Review yet? Click here to subscribe.