The September/October issue of our bi-monthly magazine The Barnes Review, "Secret Origins of the Bank of England," has once more a plethora of articles on a broad variety of topics. You can look at its Cover and Table of Contents online. We have also posted its lead article "The Bank of England's Hidden Origins" by Stephen Goodson, and below you can find Paul Angel's editorial.
If you haven't subscribed to The Barnes Review or have missed this issue for another reason, you can order it now. See below for details.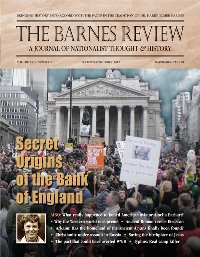 How We Got Where We Are…
Look at the headlines or listen to the TV and radio reports and there can be no doubting that the world is in a financial pickle. However, one of the upsides of the continued decline of the global economy since the 2008 banks debacle is that more and more people want to know how we got where we are today. Why are tens of thousands of people still camping out in front of the bastions of the moneylenders and usurers all across the world? How did it all start? Many would say that it all began with the disastrous imperialism of the British monarchy and culminated with the creation of the Bank of England in 1694. Read all about it in South African scholar Stephen Goodson's article beginning on pages 4-5 of this issue in which he laments the state of Old Blighty and the world today, but offers hope that the knowledge contained in this article can one day help set us free. But there's lots more in this issue. Philip Rife brings us a fascinating update on Amelia Earhart, the legendary American pilot whose mysterious disappearance over the Pacific in 1937 has never been satisfactorily solved, and whose case still inspires investigators to this day—as shown by recent discoveries on several tiny Pacific islands. Philip presents an impressive collection of anecdoctal evidence and eyewitness accounts to make us wonder, however, if the Japanese did in fact catch Earhart in the act of spying for FDR. See his article starting on page 16. We also have an inspiring piece by young Revisionist Kyle Bristowon why Western culture is supreme, and another by TBR assistant editor John Tiffany on why—if we do not do something—whites will continue to be genocided all across the globe. See pages 24 and 50.
Spaniard Joaquin Bochaca offers us a piece on the little-known pact—to which Hitler's Germany was a signatory—that could have averted WWII if only the French would have acquiesced, starting on page 54. And if you are not convinced by now that eternal vigilance is the price of freedom—and the survival of our race and religious beliefs—read Dan Michaels' article starting on page 44 on what Vladimir Putin is doing to protect the Christian church in Russia from atheistic hooligans.
And that article happens to bring us full circle to a new book by TBR's former editor, Dr. Matthew Raphael Johnson, on what it is, exactly, that makes Vladimir Putin tick. Despite all the bad press in the Western controlled media, Putin remains one of the world's more popular leaders. Does he have the answers for the problems America faces today? See John Tiffany's message in the color centerfold.
There are several more really interesting articles in this issue—including one by William White on the ancient Etruscans that has great pertinence for today—but my space is running out, so I'll have to close by asking all readers to please renew their subscriptions as soon as possible. It's what keeps TBR going in these tough economic times. To encourage you to do so today, we are offering several free new books published by TBR on the inside back cover.
And remember, if you ever have trouble coming up with the money to pay for your subscription in one chunk, we have our $4 per month automated payment program that has helped many subscribers.
—Paul T. Angel, Managing Editor
---
No subscriber to The Barnes Review yet? Click here to subscribe! It costs $46 for ONE year (six bimonthly issues @ 64 to 80 pages each), including this special bonus:
A FREE COPY of either:
That's a gift worth up to $30 for a one-year domestic subscription! Subscribe for two years at $78, and you can get any one of the more expensive books PLUS Jürgen Graf's The Giant with Feet of Clay. Visit us at www.BarnesReview.org for international rates and for S&H to your nation.
SPECIAL! Take advantage of The Barnes Review's simple, automated monthly subscription plan. Every month your credit card account is automatically charged $4. No hassle. No renewal notices. No missed issues. Canada and Mexico are $5.50 per month. All other foreign nations are $7 per month sent via air mail. No additional charges. Just call 1-877-773-9077 toll free (or from abroad: ++1-951-587-6936) or write "automated payment plan" on the ordering form at the end of this book to subscribe.
Call 1-877-773-9077 today and charge a subscription to Visa, MasterCard, AmEx or Discover.
Send your check, money order or credit card information (including expiration date) to:
The BARNES REVIEW
P.O. Box 15877, Washington, D.C. 20003
TOLL FREE 1-877-773-9077
(from abroad: ++1-951-587-6936)