When World War I broke out, the German constitutional monarchy, where Jews were emancipated, fought against the anti-Jewish absolute monarchy of the Russian Zars. Hence organized Jewry all over the world was to no small degree supporting Germany initially. But when Russia's defeat was imminent, things started to change. The British monarchy, siding with Russia in this European suicidal cataclysm, tried to garner Jewry's support. One tool to accomplish this was the 1916 Balfour Declaration, which promised to hand over a part of Palestine to "the Jews" in return for them turning against Germany. The Barnes Review has compiled a new book containing several essays on this important but frequently overlooked historical event: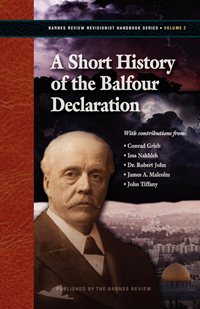 $12.00
Few Americans—few people anywhere—have heard of the Balfour Declaration, the history of which is known primarily to students of global affairs. What general knowledge there is surrounding its origins is generally restricted to dry accounts in diplomatic histories. But here is a case where truth is stranger than fiction. The issuance of the Balfour Declaration set the stage for American entry into World War I and thereby laid the groundwork for World War II and the many consequential global convulsions that followed. And, ultimately, of course, it's the foundation of the tension in the Middle East today that points toward further war and destruction. Here is the secret history of the Balfour Declaration, laid out in no uncertain terms and devoid of euphemism and political correctness. Those who have any serious desire to understand the sources of world conflict need this precise and candid analysis—the facts—about the behind-the-scenes machinations that brought the Balfour Declaration into being—and why.
---
Note
Subscribers to The Barnes Review receive a 10% discount on all book and video purchases placed over the phone. Call us toll-free at 1-877-773-9077 (or ++1-951-587-6936 from abroad) to place your order charged to your Visa, Master, AmEx or Discover Card.
No subscriber to The Barnes Review yet? Click here to subscribe.