Who were the first humans to discover the Americas? Were they Asians coming accress the Bering Strait, or Europeans crossing the North Atlantic in boats? A new scholarly books pours oil into this heated debate: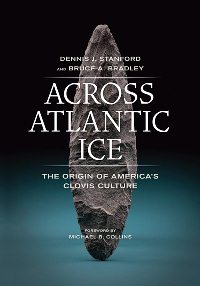 $35.00
Who were the first humans to inhabit North America? According to the now-familiar story, mammal hunters entered the continent some 12,000 years ago via a land bridge that spanned the Bering Sea. The presence of these early New World people was established by distinctive stone tools belonging to the Clovis culture. But are the Clovis tools Asian in origin? Drawing from original archeological analysis, paleoclimatic research and genetic studies, noted archeologists Dennis J. Stanford and Bruce A. Bradley challenge the old narrative and, in the process, counter traditional—and often subjective—approaches to archeological testing for historical relatedness. The authors apply rigorous scholarship to a hypothesis that places the technological antecedents of Clovis in Europe and posits that the first Americans crossed the Atlantic by boat and arrived earlier than previously thought. Supplying archeological and oceanographic evidence to support this assertion, the book dismantles the old paradigm while persuasively linking Clovis technology with the culture of the Solutrean people who occupied France and Spain more than 20,000 years ago.
---
In this context, you might also be interested in our video on The Mystery of the First American: The Saga of the Kennewick Man
---
Note
Subscribers to The Barnes Review receive a 10% discount on all book and video purchases placed over the phone. Call us toll-free at 1-877-773-9077 (or ++1-951-587-6936 from abroad) to place your order charged to your Visa, Master, AmEx or Discover Card.
No subscriber to The Barnes Review yet? Click here to subscribe.