The July/August issue of our bi-monthly magazine The Barnes Review, "The Day Europe Almost Fell," has just gone into the mail. We have posted its lead article "Stroke of Luck Saves Europe" by Peter Strahl, and below you can find John Tiffany's editorial.
If you haven't subscribed to The Barnes Review or have missed this issue for another reason, you can order it now. See below for details.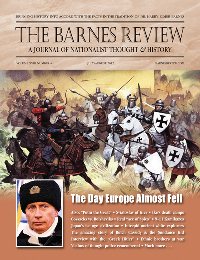 The Hinges of History
You've probably heard of the "hinges of history"—times when the "door" can swing either way. In this issue we feature a key hinge point in world history: the Battle of the Wahlstatt, aka the Battle of Liegnitz, in which the warriors of the massive Mongol empire collided with the collected forces of Medieval Europe.
In that momentous battle, which we of the West count as a victory, our fighting men were annihilated, while the Mongol casualties were light. But as fate would have it, the Mongol horde chose not to pass through the doorway they had opened to collect the spoils of Europe. There was not a single army on the continent—save perhaps that of the French—that could have stopped this juggernaut.
Shockingly though, after their decisive victory, the Mongols soon turned around their horses and rode back to their homeland. It seems the Angel of Death—who had lain his hands on a multitude of European knights that day—chose also to strike down one very important Mongol thousands of miles away just a few months later.
That lone man's death was the reason we still speak English, the French speak French, the Germans speak German and the Spanish speak Spanish—instead of us all speaking Mongolian.
Are we at a similar hinge point in history today? Many would say so. Today we are battling an army perhaps even more powerful than that of the Mongol Golden Horde. We call it the New World Order. It has its own army of bankers and moneylenders and its own impregnable citadels like the City of London, Tel Aviv and the Federal Re-serve in Washington, D.C. They also have a powerful propaganda department called the mainstream media, which does its utmost to brainwash the people of the world for the purpose of making them more pliable serfs on their burgeoning global fiefdom.
Populists and nationalists have mustered their forces, but have found defeating this beast difficult. What many are looking for today is help from a strong man able to lead the fight. Some believe they have found this man in President Vladimir Putin of Russia.
While many in America are wary of Mr. Putin—due mostly to the bad press he constantly receives in the mainstream media—what he has done in the past several years for countries looking to reach their national potential is impressive. See our editorial on page 3 for more on that. Perhaps, we are thinking, Putin might be another Sviatoslav the Great, the Russian leader who wiped out the Khazarian menace a millennium ago. (See more on that on pages 12-15.)
On another note, we are proud to announce the publication—10 years in the making—of the book Hitler Democrat by Gen. Leon Degrelle of the Waffen-SS. You can see more about this on our website online.
—John Tiffany, Assistant Editor
---
No subscriber to The Barnes Review yet? Click here to subscribe! It costs $46 for ONE year (six bimonthly issues @ 64 to 80 pages each), including this special bonus:
A FREE COPY of either:
That's a gift worth up to $30 for a one-year domestic subscription! Subscribe for two years at $78, and you can get The Hoax of the Twentieth Century PLUS Jürgen Graf's The Giant with Feet of Clay. Visit us at www.BarnesReview.org for international rates and for S&H to your nation.
SPECIAL! Take advantage of The Barnes Review's simple, automated monthly subscription plan. Every month your credit card account is automatically charged $4. No hassle. No renewal notices. No missed issues. Canada and Mexico are $5.50 per month. All other foreign nations are $7 per month sent via air mail. No additional charges. Just call 1-877-773-9077 toll free (or from abroad: ++1-951-587-6936) or write "automated payment plan" on the ordering form at the end of this book to subscribe.
Call 1-877-773-9077 today and charge a subscription to Visa, MasterCard, AmEx or Discover.
Send your check, money order or credit card information (including expiration date) to:
The BARNES REVIEW
P.O. Box 15877, Washington, D.C. 20003
TOLL FREE 1-877-773-9077
(from abroad: ++1-951-587-6936)