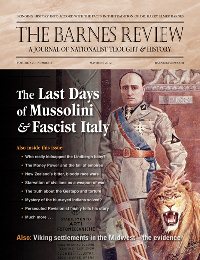 A Global Revisionist Truth Project
Readers of The Barnes Review may have noticed that people all over the world are involved in our global historical Revisionist mission. On our masthead alone, we have scholars from 12 nations: Spain, Malaysia, Canada, South Africa, Russia, Bulgaria, Sweden, Italy, Germany, England, Greece and of course America. In this issue alone, we have articles by a Spaniard, a Frenchman, a South African and a Canadian as well as two Americans. And of the two Americans, one has been locked up by the feds for his political publications, as have been many foreign pursuers of authentic history. So, it is clear, the battle for truth is a global one. People all over the world are in this fight, and some are facing a lot more heat than we here in America, where the Bill of Rights gives us the freedom to print the truth. Thus our U.S. The Barnes Review readers should not feel alone. There are thousands more out there who think and feel the way you do.
So, why do scholars, thinkers, opinion makers, movers and shakers around the globe want to be associated with The Barnes Review? Because many times they cannot speak the truth in their own countries, and because they know The Barnes Review does something with the information they produce at the risk to their freedom.
For instance, in the last year alone, The Barnes Review has published or brought out new editions of 16 important books. We have published over 118 issues of The Barnes Review in our 18 years of service to the truth-seeking community. And now, we are in the midst of creating one of the biggest Revisionist websites in the world. Please visit The Barnes Review's website— www.barnesreview.com—often. While there, sign up for our free The Barnes Review email newsletter. Every week you get brand new historical items unpublished in The Barnes Review and special discount offers for particular The Barnes Review products.
But we have to tell you: This fight is expensive, not just in blood, jail time and other forms of persecution, but also in greenbacks. As you can see, however, when you send a donation to The Barnes Review, it gets used to produce something tangible, something of value; it does not go toward plush offices, corporate Cadillacs and huge bonuses. Quite the contrary. So if you wish to contribute to our global truth mission, we invite you to support us with a donation. Our donation page allows you to place a donation online, and it also suggests and explains other ways to contribute.
And please send us your letters. We love hearing from you.
—John Tiffany, Assistance Editor
---
No subscriber to The Barnes Review yet? Click here to subscribe! It costs $46 for ONE year (six bimonthly issues @ 64 to 80 pages each), including this special bonus:
A FREE COPY of either:
That's a gift worth up to $30 for a one-year domestic subscription! Subscribe for two years at $78, and you can get The Hoax of the Twentieth Century PLUS Jürgen Graf's The Giant with Feet of Clay. Visit us at www.BarnesReview.org for international rates and for S&H to your nation.
SPECIAL! Take advantage of The Barnes Review's simple, automated monthly subscription plan. Every month your credit card account is automatically charged $4. No hassle. No renewal notices. No missed issues. Canada and Mexico are $5.50 per month. All other foreign nations are $7 per month sent via air mail. No additional charges. Just call 1-877-773-9077 toll free (or from abroad: ++1-951-587-6936) or write "automated payment plan" on the ordering form at the end of this book to subscribe.
Call 1-877-773-9077 today and charge a subscription to Visa, MasterCard, AmEx or Discover.
Send your check, money order or credit card information (including expiration date) to:
The BARNES REVIEW
P.O. Box 15877, Washington, D.C. 20003
TOLL FREE 1-877-773-9077
(from abroad: ++1-951-587-6936)