The Barnes Review is proud to announce the availability of a study on the overtrow of Iran's democratic government by the U.S. in 1953: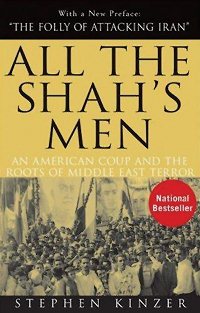 $18.00
An American Coup and the Roots of Middle East Terror. Any analysis of America's position in the Middle East would be incomplete without an understanding of the devious U.S. role in overthrowing Dr. Mohammad Mossadegh, the democratically elected and revered prime minister who nationalized Iran's oil. This is the first full-length account of that CIA coup d'état. This CIA-sponsored op's immediate goal was the institution of a more pliable leader, namely the Shah, but the consequences were much greater than ever imagined. This book is based on documents about the coup (including some lengthy CIA reports) now declassified. Stephen Kinzer's compelling narrative is a vital piece of history and a real-life espionage thriller.
---
Note
Subscribers to The Barnes Review receive a 10% discount on all book and video purchases placed over the phone. Call us toll-free at 1-877-773-9077 (or ++1-951-587-6936 from abroad) to place your order charged to your Visa, Master, AmEx or Discover Card.
No subscriber to The Barnes Review yet? Click here to subscribe.