The Barnes Review is proud to announce the availability of two studies on the Lutheran reformation: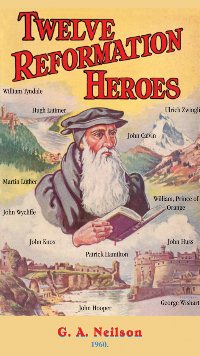 $13.00
Learning about the historical events of the Reformation is not complete without a study of the 12 most influential men—from various European countries—who for the most part paved the way for Protestantism. Thus this book contains short biographies of these 12 reformers. They are: John Wycliffe, John Huss, Ulrich Zwingli, Martin Luther, William Tyndale, Hugh Latimer, John Hooper, Patrick Hamilton, John Calvin, George Wishart, William of Orange and John Knox. Each biography is brief in length but sufficient in the information provided. Author G.A. Neilson focuses on the pertinent details of each Reformer's life and concludes each biography with the impact they had not only on the Reformation but on the world today as well. A great way to learn about the 12 key men of the Reformation without purchasing a dozen separate books!
---
$18.00
Another great book on the Reformation, but this one is strictly from a Lutheran point of view. Leaders of the Lutheran Reformation, written by Rev. Albert T. W. Steinhaeuser back in 1910, is as valid today as it was a century ago. In this 172-page book the author discusses not only the efforts of key reformer Martin Luther, but also dedicates portions of the book to those many big-name reformers who followed in his footsteps.
---
Note
Subscribers to The Barnes Review receive a 10% discount on all book and video purchases placed over the phone. Call us toll-free at 1-877-773-9077 (or ++1-951-587-6936 from abroad) to place your order charged to your Visa, Master, AmEx or Discover Card.
No subscriber to The Barnes Review yet? Click here to subscribe.