The Barnes Review is proud to announce the new, revised and expanded edition of volume 23 of the prestigious Holocaust Handbook Series on the claimed first homicidal gassing at the infamous Auschwitz camp: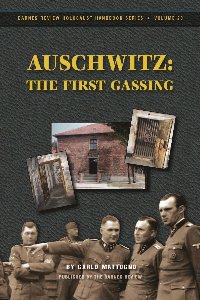 $16.00
For this study, the world's premier Revisionist scholar, Carlo Mattogno, analyzed all available testimonies relating to the first gassing at Auschwitz. The resulting image is quite confusing—even laughable. According to eyewitnesses, the first gassing happened either in spring or August, September or October of 1941, though some say November or December of 1942. The location was either the old crematorium or inside Building 11, or maybe at Birkenau. Eyewitnesses said the victims were Russians or Communist partisans or political commissars or Poles.There were anywhere from 200 to 1,663 victims. The poison gas was administered either through the door or through openings above the doors to the cells. The victims died immediately according to some reports, yet other reports say victims stayed alive for 15 hours. The inconsistencies of eyewitness testimony go on and on. In short, it is evident that those giving the accounts of the first gassing at Auschwitz were either not there, lying or mistaken—and Mattogno exposes their obvious fabrications. Learn more about this book…
Second expanded and revised edition. Softcover, 6″&times9″, 157 pages, indexed, illustrated, bibliography, appendices, #515, $16.-.
---
Note
Subscribers to The Barnes Review receive a 10% discount on all book and video purchases placed over the phone. Call us toll-free at 1-877-773-9077 (or ++1-951-587-6936 from abroad) to place your order charged to your Visa, Master, AmEx or Discover Card.
No subscriber to The Barnes Review yet? Click here to subscribe.