We are proud to announce the publication of the March/April issue of our bi-monthly magazine The Barnes Review, "The Hittites—Anatolia's Amazing Ancient Aryans":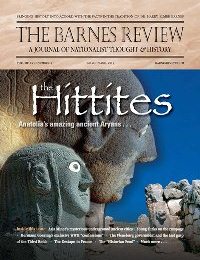 Asia Minor, Anatolia, Turkey…
In this issue we present the true history of Turkey—a land so remote and yet so close, so mysterious—with diverse civilizations going back to 9500 B.C. We tend to forget that for many thousands of years, what we now call Turkey was a white region, and then a Christian one. Then the so-called Young Turks went on a rampage and wiped out the Christians in a gigantic holocaust of which few outside the region are fully aware.
We dealt in a past issue with the astounding Turkish archeological site of Gobekli Tepe—older than Stonehenge (TBR November/ December 2009). In this issue, we focus on an unrelated Turkish civilization—the Hittites—this one going back "only" to the 18th century B.C. The Hittites were an ancient people of Indo-European language, like us, who started with a kingdom in northern Anatolia and expanded it to the shores of the Aegean and south almost to Damascus, in modern Syria. They battled the mighty Egyptians to a draw.
They compiled an impressive list of firsts, such as being the first Indo-European language to be committed to writing. For more than 1,000 years, their empire rivaled in strength the otherworld powers of the time: Egypt and the Assyro-Babylonian empires of Mesopotamia. Yet they vanished from the stage of history, leaving little that was known to recent man other than a few minor mentions in scriptures, leading many to think they were nothing more than some small Palestinian tribe. By around 1906 to 1915, thanks to archeological discoveries, including thousands of clay tablets in a Hittite library, it became clear we were dealing with a glorious civilization that had been lost. William White brings the Hittites back to life.
Mark Roland then looks at Turkey's strange underground cities—hundreds of which have now been found—some going as deep as 20 stories under the surface. Who built them, when, how and why?
Modern Turkey comes under the microscope of Pete Papaherakles. Find out the truth about the people who called themselves the Young Turks—who were neither very young, nor really Turkish and not even Muslim.
We also bring you the exciting conclusion to our two-part series on World War II Germany: the interrogation of Hermann Goering. We also bring you part two of the truth about the Gestapo, by noted French Revisionist Vincent Reynouard.
All in all, our team has put together another smashing issue that will, we are sure, become a real collector's item.
If you haven't subscribed to The Barnes Review or have missed this issue for another reason, you can order it now, with no shipping & handling fee added for delivery addresses inside the U.S. Click on the icon for more information and to order it online.
—John Tiffany, Assistance Editor
---
The Barnes Review $46 for ONE year (six bimonthly issues @ 64 pages each), including this special free bonus: A FREE COPY of Arthur R. Butz's blockbuster book The Hoax of the Twentieth Century. That's a $30 gift free for a one-year domestic subscription! Subscribe for two years at $78 and get The Hoax of the Twentieth Century PLUS Jürgen Graf's The Giant with Feet of Clay. Visit us at www.BarnesReview.org for international rates and for S&H to your nation.
SPECIAL! Take advantage of TBR's simple, automated monthly subscription plan. Every month your credit card account is automatically charged $4. No hassle. No renewal notices. No missed issues. Canada and Mexico are $5.50 per month. All other foreign nations are $7 per month sent via air mail. No additional charges. Just call 1-877-773-9077 toll free (or from abroad: ++1-951-587-6936) or write "automated payment plan" on the ordering form at the end of this book to subscribe.
Call 1-877-773-9077 today and charge a subscription to Visa, MasterCard, AmEx or Discover.
Send your check, money order or credit card information (including expiration date) to:
The BARNES REVIEW
P.O. Box 15877, Washington, D.C. 20003
TOLL FREE 1-877-773-9077
(from abroad: ++1-951-587-6936)