The Barnes Review is proud to announce the re-publication of an important book which has been suppressed by the mainstream for more than half a century: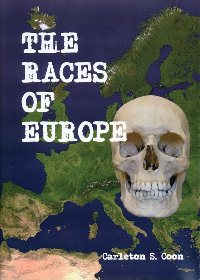 $40.00
The Races of Europe was one of the most important anthropological overviews of European racial types ever published. Although some of its conclusions have since been eclipsed by DNA studies (unavailable at the time of its publication in 1939), this work remains a standard in racial typology. After a huge survey of the available anthropological work, Harvard professor of anthropology Carleton S. Coon concluded that: The white race is of dual origin consisting of Upper Paleolithic (mixture of sapiens and neanderthals) types and Mediterranean (purely sapiens) types; The Upper Paleolithic peoples are the truly indigenous peoples of Europe; the Mediterraneans invaded Europe in large numbers during the Neolithic period; When reduced Upper Paleolithic survivors and Mediterraneans mix, a process of "dinarization" occurs which produces a hybrid with non-intermediate features, epitomized by the Dinaric race.
Coon classified the white race after regions or archaeological sites, such as Brünn, Borreby, Ladogan, East Baltic, Neo-Danubian, Lappish, Atlanto-Mediterranean, Irano-Afghan, Hallstatt, Keltic, Tronder, Dinaric, Noric and Armenoid.
This work is a faithful transcription of the original and contains the full set of photographic plates which illustrate the vast overview which this book entailed. Once a college standard, this book has been suppressed by the forces of political correctness for 50 years.
"In America we have before our eyes the rapid action of race-building forces; if we wish to understand the principles which have motivated the racial history of the Old World, it behooves us to pay careful attention to the New." —From the conclusion of The Races of Europe.
Oversized softcover, 8.5″×11″, 436 pages
---
Note
Subscribers to The Barnes Review receive a 10% discount on all book and video purchases placed over the phone. Call us toll-free at 1-877-773-9077 (or ++1-951-587-6936 from abroad) to place your order charged to your Visa, Master, AmEx or Discover Card.
No subscriber to The Barnes Review yet? Click here to subscribe.