We are proud to announce the publication of the January/February issue of our bi-monthly magazine The Barnes Review, "A Straight Look at the Second World War":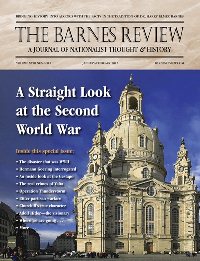 WWII & the Future of the White Race
This time around, the staff has compiled a special theme issue for your edification, composed almost entirely from material on World War II. The brainchild of TBR editor and publisher Willis A. Carto, who fought in the Asian theater in World War II and received a bullet wound courtesy of a Japanese sniper, this issue is built around his monograph "A Straight Look at the Second World War." As Willis points out without varnish, World War II was a colossal disaster for the white race. In that war over 55 million white civilians and military personnel were slaughtered—many in the prime of life—and a preponderance of them at the hands of their racial brethren.
All philosophizing aside, since the shooting stopped in WorldWar II, life on planet Earth has been an uphill battle for the race that can best be credited for civilizing this chunk of rock we live upon. But we are a resilient people and have bounced back from many disasters in our long history, as you can see from the editorial of this new issue.
In this issue you will also find a recently declassified document, obtained for TBR by KTB Magazine's Harry Cooper, in which previously unpublished notes from the interrogation of Herman Goering are detailed. In this issue we publish part one of the interrogation, with part two scheduled for our next issue.
We also have, for the first time in English, a piece based on the extensive work of French Revisionist Vincent Reynouard on the true nature of the Gestapo. There are definitely some surprises here.
Then, too, you'll read—also for the first time in English—an article by the "Sage of Catalonia" (TBR editorial board member Joaquin Bochaca) on the vicious partisan war waged throughout WWII.
Also, American Marc Roland presents a never-before-published article on the true nature of the crimes of FDR and Churchill at Yalta, while Canadian Major Mervyn Thurgood gives us a sampling from his paper on the besotted British Prime Minister Winston Churchill.
And don't miss TBR mainstay Daniel Michaels as he discusses Operation Thunderstorm—the Soviet plan to invade and conquer Europe in 1941. We have in previous issues discussed at length Hitler's Operation Barbarossa, but this is the first time TBR has examined in detail Stalin's plans for the conquest of Europe.
And finally, we wind things up with a commentary from Dr. William Pierce (1933-2002), who summarizes where whites were as a race two or three generations ago, and where we stand in the eyes of history in this generation. He also tells us how we got here.
Note also that extra copies of this issue—"A Straight Look at the Second World War"—are available in bulk: 1-3 copies are $10 each; 4-7 copies are $9 each; 8-19 copies are $8 each; 20 or more are just $5 each. No S&H in the U.S. Click on the icon for more information and to order it online.
—Paul Angel, Managing Editor
---
The Barnes Review $46 for ONE year (six bimonthly issues—64 pages each); Including this special free bonus: A FREE COPY of Arthur R. Butz's blockbuster book The Hoax of the Twentieth Century. That's a $30 gift free for a one-year domestic subscription! Subscribe for two years at $78 and get The Hoax of the Twentieth Century PLUS Jürgen Graf's The Giant with Feet of Clay. Visit us at www.BarnesReview.org for international rates and for S&H to your nation.
SPECIAL! Take advantage of TBR's simple, automated monthly subscription plan. Every month your credit card account is automatically charged $4. No hassle. No renewal notices. No missed issues. Canada and Mexico are $5.50 per month. All other foreign nations are $7 per month sent via air mail. No additional charges. Just call 1-877-773-9077 toll free (or from abroad: ++1-951-587-6936) or write "automated payment plan" on the ordering form at the end of this book to subscribe.
Call 1-877-773-9077 today and charge a subscription to Visa, MasterCard, AmEx or Discover.
Send your check, money order or credit card information (including expiration date) to:
The BARNES REVIEW
P.O. Box 15877, Washington, D.C. 20003
TOLL FREE 1-877-773-9077
(from abroad: ++1-951-587-6936)